E-Safety
Understanding online safety is tricky for all ages and it is developing faster than any of us can keep up with it. We are finding that our children are more confident in the online world than we are, it is our duty to make sure it's safe for every child to go online. We're here to support parents with online safety advice, and we're here for children – to protect them.

How do we teach children about online safety at Aughton?
We cover online safety whenever we use electronic devices during school time and our RSHE and Computing curriculum have discreet units to learn about e-safety and keeping safe online.
TOP TIPS for staying safe online
Limit amount of time spent on a screen – having too much screen time can affect our mood and sleep.
Never share your personal details online. These include your full name, address, telephone number, email addresses, school, workplace or bank details.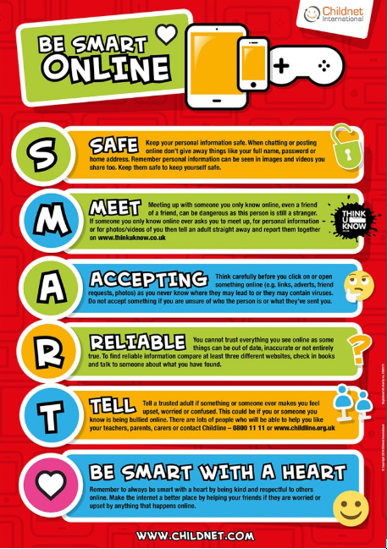 Parental Controls Guide
The guide below is a support to help you place parental controls on numerous devices and online apps.
Useful Websites
CEOP's Thinkuknow - a very useful website with some informative resources for children and parents -
NSPCC - https://www.nspcc.org.uk/keeping-children-safe/online-safety/
Net-Aware - https://www.net-aware.org.uk
Internet Matters - https://www.internetmatters.org
Games Rating Authority - http://gamesratingauthority.org/GRA
BBC - http://www.bbc.co.uk/cbbc/shows/stay-safe
Comonhttps://www.comonsensemedia.org