Uniform
For FS and KS1, our uniform consists of a grey Aughton jumper (or plain grey jumper), gold or yellow t-shirt, grey trousers, skirt or dress and a pair of all black shoes.
Our KS2 children from Year 3-6 wear an Aughton Blazer, white shirt, grey trouser, skirt or dress and a pair of all black trainers.
For P.E. children should wear a white T-shirt and black shorts, which need to be kept in a bag on your child's peg. Shorts and t-shirts can be purchased from any local supermarket that sell clothing. Children also require a bottoms or a jumper for cooler weather and pair of trainers for outdoor P.E as we will aim to have most of our PE sessions outdoors where possible.
Children should wear black school shoes or black trainers, with black pumps or trainers for PE. Please note, the black trainers should not have a white or coloured trim.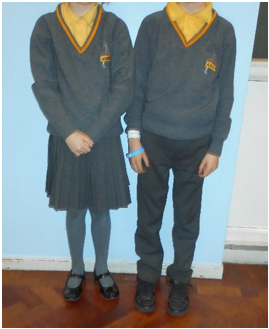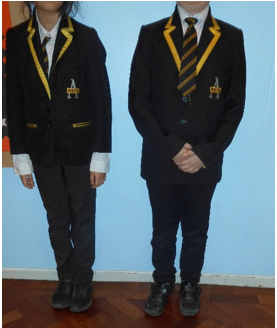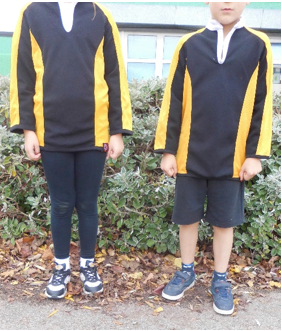 The Aughton branded clothing may be purchased from;
Pinders Schoolwear
Mansfield Road, Aston,
Sheffield, S26 2BS
Each of these items can be purchased individually or as a subsided bundle for £25, which contains:
Blazer
Jumper
Rugby Top
Tie
We do not sell the non-Aughton branded clothing in school however, they may be purchased from any of the local stores. Children should not come to school in jeans. During the summer, many of the girls wear checked dresses in yellow; again, these are not sold in school.
All clothing should be clearly labelled with your child's name, as it is difficult to distinguish the ownership of items of clothing which all look the same.
Second Hand School Uniform
Second Hand Uniform
The Department of Education has asked that:
"Schools should make sure that arrangements are in place so that second-hand school uniforms are available for all parents.
As a school, we welcome and have some good quality second hand uniform available for any parent who requires it. We ask that you contact either school office info@aughtonacademy.org or 0114 2873091, and we will sort this for you in a discrete manner. It is important to note that at times during the year, we do have a limited amount of stock.
At the end of each full term, we will have our stock out for parents/carers to replenish and take a look at.
Other places where second hand uniform for Aughton Junior Academy is available;
Parents donate uniform to a charity shop on Lodge Lane
Councilor Pitchley holds a Uniform Bank at 'The Green Hut' in Swallownest through the Parish Hall.